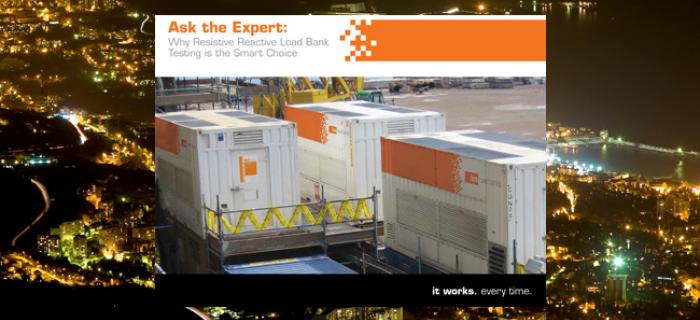 In examining the key differences between resistive and resistive/ reactive load testing, and why the latter is necessary, it is important to focus on addressing a facility's emergency power generation system as a whole by testing the entire system to identify system-wide weaknesses at the time of commissioning and at periodic test intervals to be in compliance with regulatory agencies.
Reactive load testing is most important at health care facilities, data centers, life safety and mission critical applications where the need to demonstrate the capability to provide electrical power as intended is prescribed by the regulatory standards and code specified by the designers. Examples of typical emergency power sources include gas and diesel fueled reciprocating engine-generators, liquid and gas fueled turbine-generators, rotary UPS and battery UPS systems.
Standards of Certification
While not of primary focus for understanding the key benefits of reactive load testing, it is important for consulting engineers and facility managers to understand the specific code requirements for installation, performance and testing of the emergency power systems. The National Fire Protection Agency (NFPA) publishes and updates these standards on a regular basis with input provided by professionals, engineers and members of the industries providing related equipment and services. NFPA resources include:
NFPA 101 (2012) Life Safety Code
NFPA 99 (2012) HEALTH CARE Facilities Code
NFPA 110 (2013) Standard for Emergency and Standby Power Systems
NFPA 37 (2010) Standards for the Installation and Use of Stationary Combustion Engines and Turbines
NFPA 70 (2011) National Electric Code
NFPA 70B (2010), Recommended Practice for Electrical Equipment Maintenance Joint Commissions (formerly JCAHO).
Specific regulations such as NFPA 101 Sec. 7.9.2.4 requires that emergency generators be installed, tested and maintained in accordance with NFPA 110. Provisions dealing with maintenance and testing of emergency generators can be found in NFPA99, Sec.4.4. and deals with such issues as:
Test Criteria
Test Conditions
Test Personnel
Maintaining and Testing Circuitry
Battery Maintenance
Specifying engineers and facility managers should have a copy of these related NFPA standards. They are available online at www.nfpacatalog.org. Additionally, individual states and localities will also have additional standards, codes, and regulations pertaining to mission critical facilities. 
Press Contact
Chris Giannaris
Corporate Marketing Manager
858.674.7034 office
cgiannaris@hawthornecat.com